Every few weeks I get to visit my friends' home whose place always leaves me in awe. Their home is entirely a smart home, from top to bottom. My favorite part is their heated floors. I have to say, I would love to never have cold feet again in my home.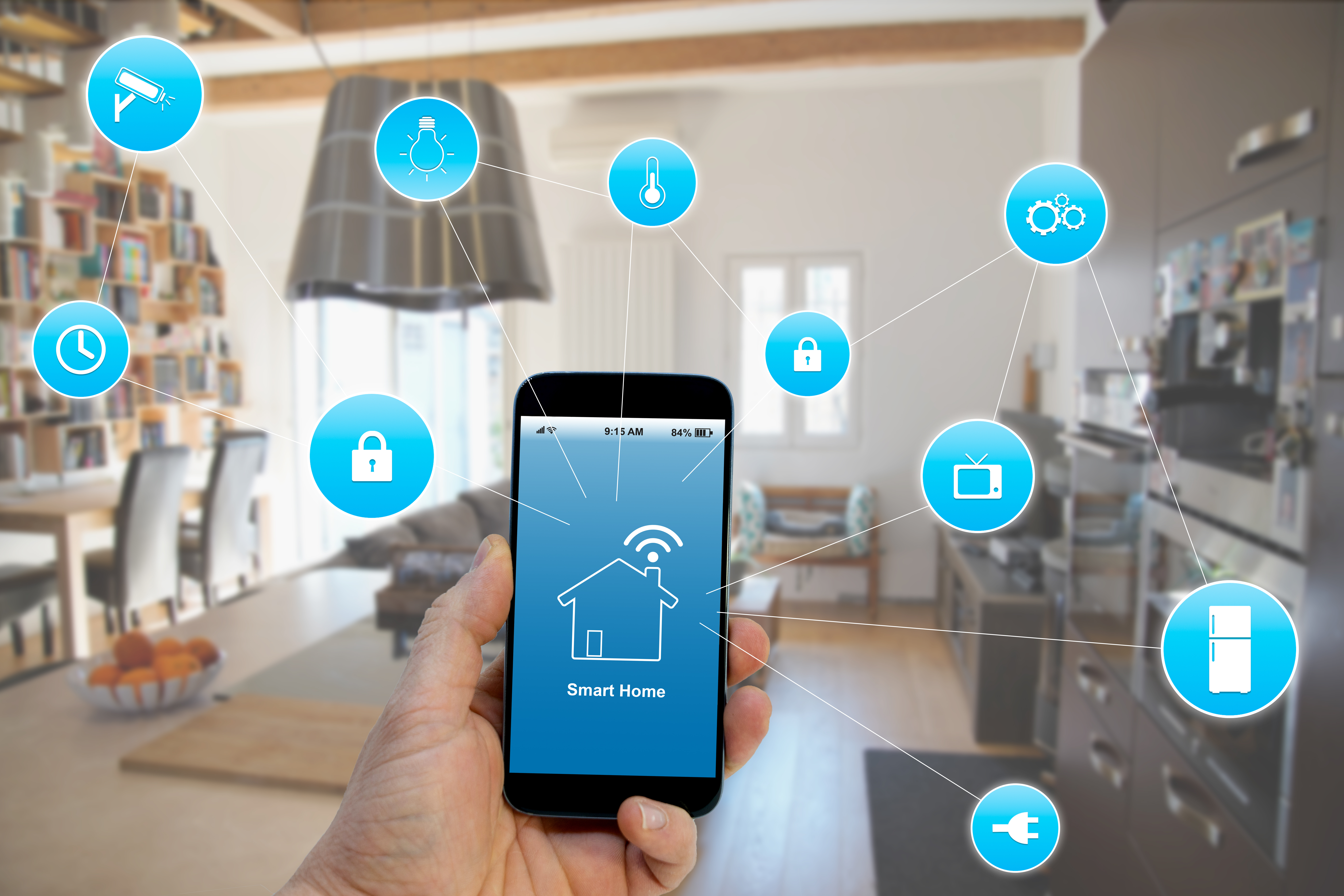 I think their entertainment center is the most enjoyable part of the home. The lights dim automatically as you begin a movie, and they change colors with the movie. It is truly an engrossing experience; however, this has left me curious about what it takes to have a secure smart home so we can enjoy all the benefits they bring to us.
We live in a time where everything can be run by a smart device – our cars, our phones and even our homes. Some homes use multiple smart devices, with each device containing its own computing system so they can talk to each other, making them easier to control remotely. Unlike other devices such as coffee makers or TV remotes, these devices are powered by the internet within the home. They will connect through a lone source such as a computer or a router. Smart devices will gather and keep information regarding usage and security preferences. If this is how your home is set up, this data could potentially create a security risk if your home devices are not properly secured.
Perhaps you have not made the transition to smart devices in your home yet, but you are thinking about it? You may be wanting to stick with the good old lock and key system for your home… So, the question is, is a smart home safer?
Benefits of a smart home.
ENERGY.
If you have a smart thermostat in your home, you may find that you will save money and energy. You can pre-set heating and cooling times. For example, if you're at work, you can have your thermostat set to keep your house a little warmer to save energy. And then an hour before you come home, it begins cooling your home for when you return. There are often peak times in the hotter regions of the country, when cooling your home is more expensive than other times during the day. A smart thermostat will prevent the air conditioner from cooling during these critical times, which results in money saved.
SECURITY.
This is the most common reason families begin using smart devices. It is now easier than ever to have security cameras around your home. Several years ago, it was very costly to hire a company to come into your home and install security cameras and an alarm system. But today, you can easily get a doorbell camera for $50 or less and download a free app to your phone. Now you have the ability to keep track of your home without even being present. There are also smart locks, or even cameras for your child's bedroom. Having cameras around the outside of your home can quickly deter a burglar, decreasing your chances of a break-in.
According to the 2021 State of Safety report, 62% of Americans use some kind of security measure to protect their home.
·Security cameras are the most common form of home security used, followed by dogs, firearms, and security systems.³
·Despite Americans' belief that crime is on the rise, use of property protection measures fell 6% between 2019 and 2020.³
·1 in 4 Americans use a security system to protect their home and property.³
·Nearly 40% of US residents don't use any kind of security measures to protect their home.³
Edwards, R., Edwards, R., Carlsen, J., Edwards, R., McEntire, K., & Habas, C. (2021, August 16). Home Safety and Security Stats and Facts. SafeWise. https://www.safewise.com/resources/security-stats-facts/#Home_security
ENTERTAINMENT.
Smart devices can reach beyond having a voice activated TV. You can get voice activated speakers to play music or to help you listen to that podcast you enjoy. It can help you keep a grocery list, remind you of appointments, and even turn up or dim your lights on request. You can ask Siri to remind you to get milk when you are near the grocery store again. Siri will track when you're out and about, and if you get within just a few miles of your grocery store, she will send you a reminder to grab milk. You can even have lights synchronized up to your TV that will change to the colors of the movie or show you are watching, giving you an in-home cinematic experience.
Risks Of Smart Devices.
DEVICE COMMUNICATION.
Often when you are setting up a security system yourself, you may run into trouble with devices not communicating with each other or not communicating with your home network. This could be very frustrating and leave a safety gap in your security. If a camera is not effectively communicating with the rest of your system, it may not communicate with you when a need arises. This can be solved by either going through a security company who will set up the entire system for you, or by using a local IT company who can help you get your home security properly synchronized to work together.
HACKING.
This is one of the more frequent concerns when it comes to a smart home. With all your passwords, data, and videos going into the cloud, if your cloud is ever hacked, you can quickly find your home at risk.
Hackers aren't fooled. Cloud-based gadgets are vulnerable to cyberattacks because many unsafely transmit data over the web. Unfortunately, some of these transmissions aren't even necessary.
"Cloud devices can pose security problems for homeowners since data, such as video data for cameras, are not encrypted when sent over the internet. Thus, cloud hardware is a target for cyber intrusions," says Ruslan Vinahradau, CEO of smart-home technology firm Zorachka, a big advocate of secure home systems. "Homeowners should investigate technologies that come with internal storage, as well as encryption. These features make it harder for cybercriminals to hack your data or household." Tariq, A. (2021, January 21). The Challenges and Security Risks of Smart Home Devices. Entrepreneur. https://www.entrepreneur.com/article/362497
DEVICE TRACKING.
A security system that is controlled by an app will often track devices and applications that are used to help improve security. However, this can also leave users at a higher risk of a data breach. If the app is breached, your home could quickly be shut down; but also, companies may be tracking your devices, learning your habits, and selling them to other companies. This is a widespread practice when you are using smart applications or devices in your home. Companies will hide these tracking agreements within their privacy policies. It is always important to read privacy policies before giving applications permission to handle and view what is happening within your home.
TECHNOLOGY FAILURE.
Not all smart devices can run directly from the electricity within your home. The demand for wireless devices has made it easier for families to have more cameras or even locks within their homes; however, if the batteries of these devices should fail or if you just forget to charge them, you may find yourself quite literally in the dark. Though most batteries can last for a week or more, it is a concern to keep in mind. If you have smart locks on your doors and your home loses power, you are now on a ticking clock until either your power is restored, or your battery runs out.
Protect your Data.
At the end of the day, if you are looking to begin your smart home journey, there are several things to focus on to bring you peace of mind:
SECURITY POLICIES. Read your privacy policies when setting up devices for your home. Find out how and where your data is being tracked.
2FA. Two-factor authentication will always be your best friend when securing smart devices in your home. Use 2FA to build strong pass phrases for your system. The more steps you take into accessing your system, the more difficult it is for a hacker to breach your home security.
RESEARCH. It is always best not to cut corners when it comes to the hardware that will be protecting your home. Do research on the companies you are buying your devices from. Keep yourself up to date on policy changes with the company. Purchase newer hardware and devices. If you are securing your home with these devices, you want them to be as current as possible.
So, Are Smart Homes Safe? Our answer is: they CAN be. Understanding all the different parts that make up a smart home and knowing how to coordinate everything to sync together should enable a harmonious system of protection for your home.
If you are looking for more information on how to find the right smart home devices for you, or if you need help with security within your home, DataCom Technologies is here to help. Please contact us through our website at https://www.datacomtechnologies.net/contact.